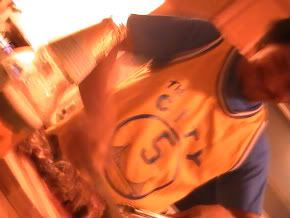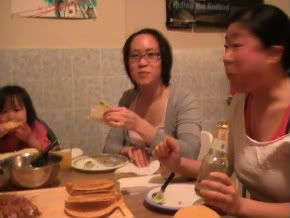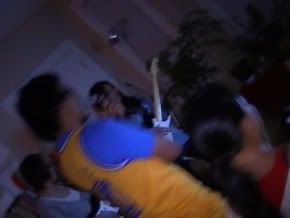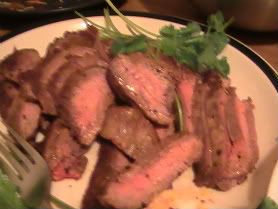 Over the weekend we went to our friends-Dr. Khem and T Fresh's house for Rock'n Tacos. Giles aka Liziest dressed up as his ex favorite rapper-Common, and I aka Tek-niq was dressed up as Lady Kier of dee-lite. Before heading to the dinner party, we stopped by our neighborhood liquor store to pick up Dos equis and Modela Especial de Mexico to go with the theme of the night.
Rock'n taco night started with tacos and the rock'n came later. Sophea and Theresa made the best tacos i've ever had. The host threw both soft and hardshell on the table. Some choices were seared tuna, fried tilapia, ground beef, and steak.
While every thing was delicious, I thought the steak was bananas- it was done to perfection-rare and juicy the way I like it. At the end of dinner, sophea busted out his mom's tuk prahok: a pungent fermented fish sauce with lemongrass, kaffir lime leaves and a splash of lime. Cambodians eat this sauce with steak and veggies. Prahok is used to determine if you are Khmer. If you don't like Prahok-you ain't Khmer. If you are not Khmer and you like Prahok-you're an ally. Hahaha! He should't have taken it out because we killed the sauce and steak. The cutest person sitting at the table was Tae. She concentrated really hard making cheese taco.
After stuffing our face with tacos, we went on to playing rockband. Some lead singers were Delia, Eugene, Theresa, Giles and Sophea. Tae and I took turn playing the bass. Victor and Hsindy showed up towards the end of the night. They made it just in time for Sophea's homemade Flan.
Thanks Theresa and Sophea for a fun night. That was our 2nd SUPPER CLUB meeting. Delia and Tae are next!